PHA - UPDATE ON GOVERNMENT OF ALBERTA ENHANCED PUBLIC HEALTH MEASURES
---
---
PHA will continue to offer programming in the month of December under the following parameters:
Sport specific activities (Monday, Wednesday, and Fridays):
On these afternoons there will be sport specific training and/or learning activities organized by your child's coach. If your child is in grade 6, they will have the opportunity to participate in these online sessions with the coaches at school. You would also have the opportunity to pick up your child at lunch time and have them participate in these activities from home. Please work with your child's coach in terms of what the best plan would be regarding this portion of the programming as we will need to plan spaces for athletes to participate if they are participating at school.
On Monday, Wednesday and Fridays PHA will post Zoom links for your athlete. The link will include the activity and what the athlete requires for the activity. Please check the website on these morning for your daily activities.
Please see directions below on were to find the links:
Click on your athletes group (see below)

From the menu click on Virtual Learning (see below)

Click on zoom link by date to access the session (see below)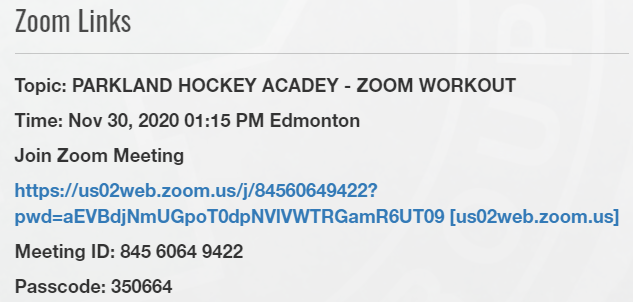 Virtual Classes and their links will be updated daily. The schedule will continue to be posted on RAMP Team.
The month of December has been discounted to $140.00. Please ensure payment is received prior to December 1. Include your athletes name in the payment.